Pumpkin Patch 2021
We will be open to the public all weekends from
Oct. 2 to Oct. 31, 2021... from 10am-5pm!
Entry fee $5 per carload on the first and last weekends, Oct. 2-3, 30-31
and $10 per carload on premier weekends--Oct.9-10, Oct. 16-17, and Oct 23-24
PLEASE NOTE: This is not a parking fee, but an entry fee, charged if you drive in or walk in...so pack everyone in fewer cars!!
Train tickets: $4 age 2 and up, Hayride tickets: $3 age 2 and up, Pumpkins from $1 to $60!
Food vendors are here!
SORRY, OUR INSURANCE ONLY ALLOWS MEDICALLY TRAINED SERVICE DOGS... NO COMPANION DOGS. THANKS!!
TEACHERS!!! 

  As of July 2021, most schools have not re-implemented field trips,

so we will not be able to offer field trips again this year. Most districts are still requiring some spacing and/or small (14) group sizes for sports events or outings, which would not work for the large kinder, etc. groups that come to Hillcrest. Also, with the rise of Covid numbers, even the districts that are allowing field trips, may be changing policy.  Thanks for your understanding, praying for better conditions next year!
We'll be open again for Christmas season November 27 th, 2021
(first Saturday after Thanksgiving)    Pajama Night tickets will go on sale for 2021 on Oct. 4
---
Hillcrest & Wahtoke Railroad will be open to the public
with the steam trains running
every Saturday & Sunday from Oct. 2 to Oct. 31, 2021
from 10am - 5pm during Pumpkin Patch!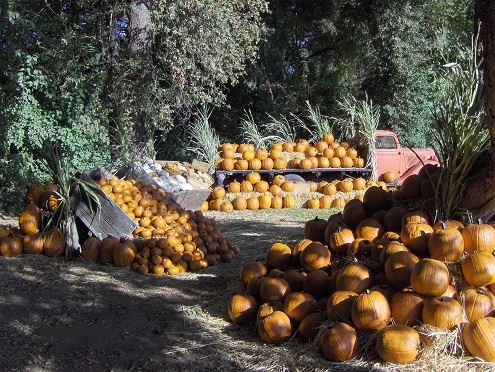 We will have pumpkins and all types of harvest products on hand
$4 Steam Train Ride 

 
$3 Hay Rides
Hot Food, Snow Cones
Nature Trail, and Play House Areas available
Hillcrest  Party area is available by reservation on weekends for an additional fee, see website under parties and weddings for detals or email hillcrestshops@aol.com for info
Our insurance allows us to have trained Service Dogs only... thanks!
_____________________________________________________