PAJAMA CHRISTMAS 2023
PAJAMA NIGHT TICKETS 2023
GO ON SALE
OCT. 2 AT APPROX. 9 AM
FOR ALL OF YOU  VETERAN PJ FOLKS, IN AT ATTEMPT TO 
STEAMLINE THE ORDERING PROCESS, IT IS NOW TEXT BASED,
INSTEAD OF EMAIL, SO YOUR OLD ACCOUNT IS GONE, JUST RE -REGISTER FOR THIS YEAR... SHOULD JUST TAKE A MINUTE AND YOU CAN DO THIS AHEAD OF TIME IF YOU LIKE.
 (THIS IS NOT YET LIVE SO STAY TUNED.. AWAITING GOV PERMISSION TO SWITCH TO TEXT BASED

.)
UPDATE 9/16/23:  WE STILL DO NOT HAVE PERMISSION TO LAUNCH THE NEW  TEXT SYSTEM... UNFORTUNATELY, WE MAY HAVE TO GO BACK TO THE OLD EMAIL BASED ORDERING SYSTEM THAT WE HAVE USED IN THE PAST.  IF THIS HAPPENS, YOUR OLD ACCOUNT SHOULD BE THERE AND YOU SHOULD BE ABLE TO USE IT.  STAY TUNED!..... ALWAYS SOMETHING INTERESTING...
TENTATIVE PJ NIGHT DATES FOR 2023:
NOV 26-30, DEC 2-23
(These may change a little)
 REMEMBER FOLKS, ALL PAJAMA NIGHT TICKETS ARE SOLD RAIN OR SHINE! 
TICKETS ARE NON REFUNDABLE (SEE BELOW)
---
PHOTOS WITH SANTA AVAILABLE, FOOD VENDORS OPEN (CASH ONLY)
 

  6-8:30 PM    $40 PER PERSON AGE 2 AND UP
TO AVOID CONFUSION, PLEASE READ CAREFULLY THE INSTRUCTIONS BELOW BEFORE PURCHASING TICKETS. 
THESE TICKETS ARE NON REFUNDABLE, RAIN OR SHINE,  UNLESS WE CANCEL THE EVENT, (THINK GARTH BROOKS TICKETS!)
SO CHOOSE WISELY.    SORRY, AS USUAL, OUR INSURANCE DOES NOT ALLOW PETS. ONLY MEDICALLY TRAINED SERVICE DOGS
ARE ALLOWED, NOT COMPANION ANIMALS.
Follow our FaceBook page for updates and notifications.


Pajama Christmas is the only time of the year when we're open to the public after dark. It's the only way to experience the magic of moonlight steam train rides. The glow from the locomotives' fire flickers across the ground and the occasional sparks from the smokestack swirl up into the air before burning out. Steam hangs in the air to take on the appearance of riding the train through the clouds.
Tickets are limited and had by advanced sales only so there won't be the usual crowds seen during the day. Making for a much more cozy and relaxed atmosphere.
Don your snuggliest pajamas and come to the farm after dark (6pm). Parking is in the lower parking lot lit by white Christmas lights hung in the trees. Enter at the front gate, park your car, and follow the lanterns to the Stone Bridge where you will check in and get your armbands, then head up the stairs up to Hillcrest Station.
Unlimited steam train rides through the redwood trees and across the farm in the crisp December night air with lights and displays. Fire bowls ablaze to warm yourself by while listening to live music. All-you-can-eat yummy cookies and a fun hot chocolate bar.  Hot food also available for purchase(CASH ONLY). Photos with Santa also available for purchase.(they take credit cards!)
It's a night of family, friends, music, and holiday cheer with a touch of magic.

Santa makes an appearance to talk with the children (ages 1 to 100+). Santa's personal photographer will also be there for purchasing a photo with Santa.
All nights 6:00pm to 8:30pm
$40 a ticket (ages 2 and up)
Includes admission, parking, train rides, cookies, hot cocoa, live music, and more!!!
When you make a purchase your name will be added to the guest list for that night. These tickets are non refundable unless we cancel the event. You will receive an order number via a text message to your phone.  On the date you have reserved tickets, simply show up at the Hillcrest Main Gate between 6 PM and 7:30 PM where an attendant will help you find a place to park.
After parking, follow the hanging lanterns to the Stone Bridge.  Please check in at the stone bridge with your name and order number to receive your wristbands for the night.  We look forward to seeing you there!
    KEEP YOUR ORDER NUMBER!!! THAT IS YOUR TICKET!!!
IF YOU HAVE A LARGE NUMBER OF TICKETS FOR A GROUP, YOU DO NOT NEED TO ARRIVE TOGETHER. WE WILL KEEP TRACK OFHOW MANY HAVE ARRIVED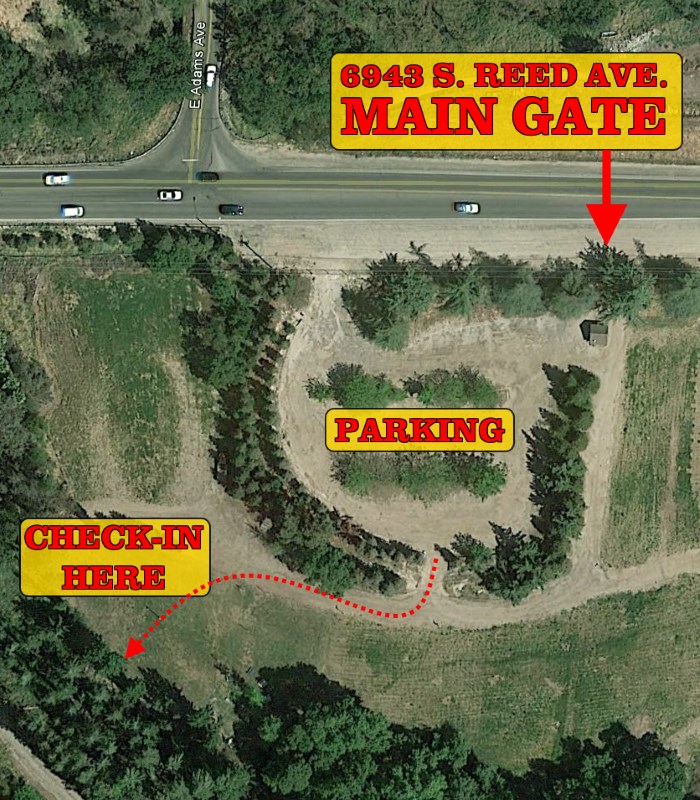 This is a rain-or-shine event. A couple of times we have tried to cancel it due to heavy rain, but everyone came out anyway and had a grand time.